Welcome to Pipemaster
Safety
"Pipemaster Oilfield Services Inc. has moved forward in developing new systems to remove the risk to the worker and lowers the cost to the customer." ----Hal Wright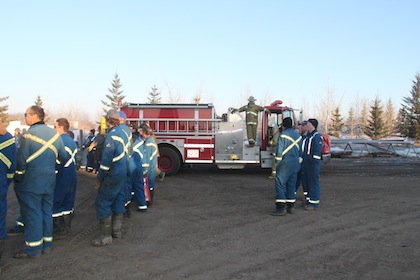 Pipemaster Oilfield Services Inc.
Proudly serving the Oilfield Industry for over 25 years.
Maintaining Certificate of Recognition (COR) since 2004. COR certificate certifies that this company has developed a Health and Safety Program that meets established standards. Click here to view this certificate.

Pipemaster Oilfield Services Inc. Health and Safety Program follows Saskatchewan Occupational Health and Safety 1996 Regulation 22.

The program includes:

Meet or exceeding regulatory compliance. Strive to meet or exceed industry codes, guidelines and practices.

Providing mechanical and physical safeguards to the maximum extent possible.

Conducting a program of safety and health inspections to find and eliminate unsafe working conditions and practices, to control health hazards and to comply fully with the safety and health standards of every job.

Preventative Maintenance program.

Regular mandatory safety meetings. Safety training including orientations for newly hired, job specific training, specialized training and related training. Applicable emergency training ensures prompt and organized response.

Providing adequate and necessary personal protective equipment and instruction for its use and care.

Developing and enforcing safety and health rules, practices and procedure and requiring that employees cooperate with these rules as a condition of employment.

Investigating every accident, promptly and thoroughly to find out what caused it and to correct the problem so it will not happen again.

Related Programs such as:

Occupational Health and Safety Committee, Return to Work Program, Work alone Policy, Alcohol and Drug Policy, Harassment Policy.

Records and Statistics analyzed to identify trends and needs.

Pipemaster's noteworthy safety achievement:

Excellent employee orientation process and tracking of training records and tracking of worker competency.

Very good procedural development and review process. Also experimenting with using electronic devices to store procedures so workers have them readily available on the work site.

Workers consistently complete Prejob work site hazard assessments.

Workers at all levels feel comfortable bringing safety issues forward to management.